O Spotify anunciou uma parceria com a plataforma Giphy para permitir que as pessoas saltem direto do perfil de seus artistas favoritos no serviço de GIFs para o streaming musical. Alguns cantores e bandas mantém perfis próprios e verificados no GIPHY para divulgar suas fotos, músicas ou trechos de videoclipes.
Com essa integração, o usuário começará a ver um botão "Ouça [Nome do Artista] no Spotify" logo abaixo dos GIFs relacionados. Ao clicar, eles abrirão a música ou artista vinculado à imagem, seja na versão web ou no aplicativo do serviço de streaming. Segundo o Spotify, isso deve ajudar os fãs a descobrirem novas músicas do cantor ou cantora predileto e até outros artistas.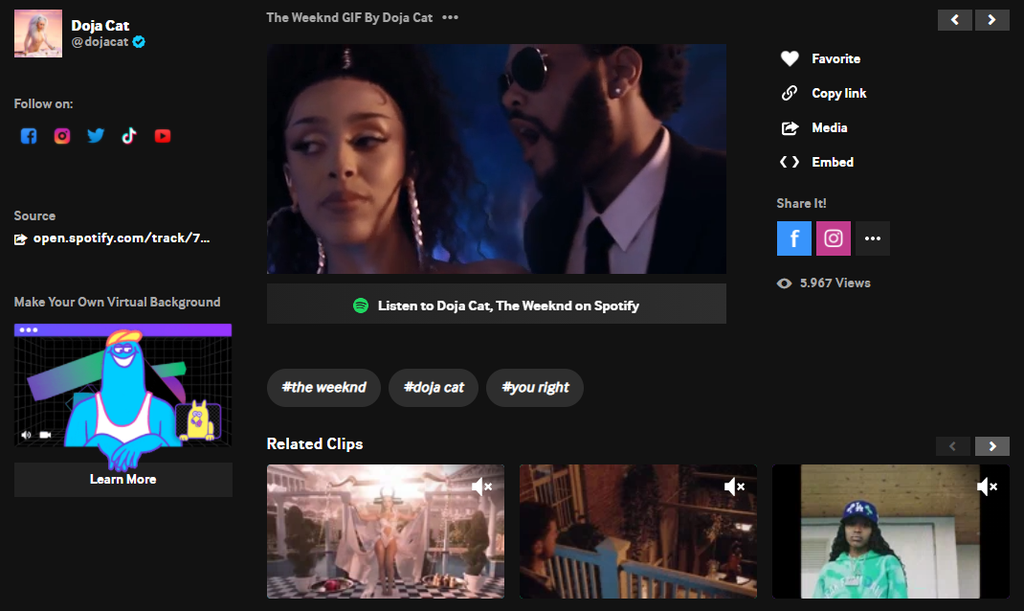 Um link vai levar direto o usuário do GIF para o perfil do artista no Spotify (Imagem: Captura de tela/Canaltech)
Para funcionar, o artista deve ter um perfil verificado no Giphy, além, é claro, de uma conta na plataforma musical — o que quase todo músico tem. Por enquanto, essa é uma opção restrita para os selecionados:
Doja Cat
,
The Weeknd
,
Post Malone
,
Nicki Minaj
,
The Kid LAROI
e
Conan Gray
são os artistas já alinhados à nova experiência. A expectativa da companhia é trazer mais cantores e bandas para integrar o rol dos GIFs.
Qualquer pessoa pode usar os GIFs dos artistas, mesmo se não for assinante do Spotify ou não tiver uma conta no serviço de hospedagem. O Giphy é utilizado para armazenar e difundir esse popular formato de imagens em movimentos, e tem como trunfo a integração com o banco de dados de redes sociais. No Instagram, por exemplo, todos os GIFs são puxados diretamente do Giphy.
A novidade já está liberada e pode ser acessada pelo navegador, em qualquer dispositivo, ou no aplicativo do Giphy, exclusivo para iOS.
Fonte:
Spotify
Created with